A good logo has to convey your company values, your product's purpose and a recognizable image. That's a tall order, and most companies will want to seek a designer with…design experience. Any designer with experience will be able to answer how long it should take to get a good logo. But it helps to be informed first.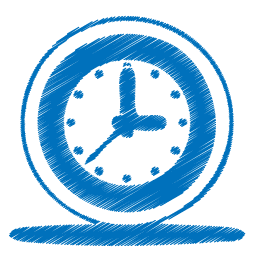 Reap What You Sow
The answer to the question in the headline is "as long as it takes." A great logo is like a garden. There is no single moment of "gardening" that produces a tasty vegetable. The garden plot has to be planned. Measurements, soil preparation and seed planting all come before watering, weeding and harvesting. There are no shortcuts to great-tasting veggies.
A logo is no different. It isn't simply a single act of design in a vacuum. How long it takes will depend on all sorts of factors. You can't build a garden for someone unless you know how much space they have, where they live and what they want to grow.
Logo design requires discussions with the client about their company, their philosophy and their goals. Pre-existing brands may want to preserve color palettes or other elements. They may want to go the other way completely, excluding aspects of their business the designer may include if they aren't told. If you want to harvest your best logo, you'll need to put in the time to plan, plant and water it.
Plant Food For Logo Design
If "as long as it takes" just isn't doing it for you, try this one instead: a good logo will take as long as you allow it to take. In other words, turnaround is about more than just a graphic designer in a cubicle. It's a conversation. The more available you are to the designer for feedback and the more up-front guidance you give on what a good logo means to you, the faster the process will be.
The Internet enables easier communication than ever before, and modern bandwidth makes it easy to send large files such as high-resolution images back and forth. Services such as 99Designs will crowdsource your new logo based on initial specifications. Competition between designers drives quality up, and seven days after submitting your design brief, you can pick a winner.
A quick search for "logo design services" proves there is a large market for logo development. Maybe crowdsourcing isn't your preferred solution. That doesn't limit the power of communication over the Internet. Large file transfers, video chat and powerful remote project management tools like Basecamp can accelerate even the most in-depth design process.
So, when it comes to deciding how long it should take to get a good logo, the answer is unique to each company. The trick is for each client to take their logo seriously as a lifetime commitment, and for the designer to treat each logo like the first and most important one they have ever designed.