CGI Scripting on FatCow's Platform
There are two kinds of FatCow customers: the geeks and everyone else. We love you all, but this one is for the geeks. Developers who need to build custom functionality into their website have a lot of options with FatCow. Our Knowledgebase covers those options in great detail, but this is a good overview.
Choose Your Language
CGI, or Common Gateway Interface, is a way to run scripts written in various programming languages on your FatCow account. You can use Perl, PHP and shell scripts to enhance your site with dynamic content like bulletin boards, polls and behind-the-scenes analytics. This extends your website's capabilities beyond the HTML and CSS that power most static websites.
You can't currently use Java servlets on FatCow because we want to provide the maximum amount of security for all of the websites hosted with us. However, we have large Enhanced Script Library with tools like a click-through counter and a form email script. Log into your FatCow account and then click over to the library and have a look.
You'll have to make sure your scripts use the right file extensions to ensure they run. Perl scripts need .pl or .cgi extensions, PHP scripts need .php, .phtml, .php3, or /php5, Python scripts need a .py extension and SSI files require an .shtml or shtm extension.
Setup and Troubleshooting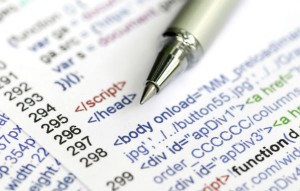 You don't have to worry about manually directing your scripts to the right server path, though. Our CGI servers will intelligently direct them all to /usr/local/bin/perl/. This should make preparing your scripts a little easier. We want you focused on making your website awesome, not trying to find the right path for your scripts.
We also keep error logs so you can exterminate bugs. The most recent errors are appended to the bottom of the log. Our error logging begins with the date and time of the error in EST. Our customers outside Eastern Standard Time can use this handy link to find out the current time in EST. Next you'll see the path to the file that generated the error, and then a description of the error itself.
If a particular error has you confused, search the web for answers (we like Stack Exchange). Just make sure you remove your own URL from the path because no one else is seeing your error logs. Unless there's a parallel universe in which you're building the exact same website with the exact same scripts. We tried to do the math, but suffice to say that's highly unlikely (although it would be cool).
Anyway, if you find a script that worked yesterday isn't working right today, get in touch with us to ask whether we've upgraded our server architecture. That can sometimes break absolute file paths and we can show you how to use symbolic paths that won't break.
One final note: your scripts have 60 seconds to do their job every time they're run, then we terminate them so you don't slow down everyone else's site. If you're using scripting, chances are that you're awesome enough to make that small restriction work for you. While we can't provide support for many scripting issues, we will always try to help you with platform migration, FormMail.pl, scripts that used to work but suddenly don't, and making sure scripts run on your account if that's part of your plan.