The mobile user experience can seem pretty abstract, especially when you're trying to target your audience through web design, or you're building a new app. After all, the user experience on a mobile device is nothing like that of a desktop device. And to make things even more complex, the phrase "mobile device" describes not one device – but a slew of devices of various sizes with different software.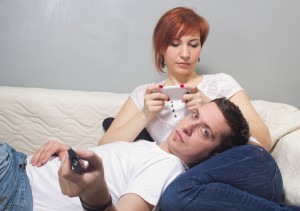 How to Work It
So how do you fully come to grips with how your customers use their mobile phones? How do you create a truly delightful and useful experience for your people (without having your people call my people).
Simple. Take a peak at how users are using their mobiles:
86 percent of mobile internet users will use their device in front of the television.
The amount of page views from mobile devices increased fourfold between 2010 and 2013.
Almost half of consumers won't come back if your site doesn't work as expected on mobile.
And yet 39 percent(!) of businesses don't put effort into making a mobile-optimized site.
There are plenty of other statistics to cite, and many of them can be found in the aptly titled presentation The Internet In Your Pants. But the numbers all tell the same simple story: people want information in their pockets – on their mobile devices. And if you're not giving your people what they want by focusing on usability then they won't be picking up the phone to call your people (or use your product) anytime soon.
Can't we all just get along?
Now, you may assume that your website will get along on mobile the same way that it does on the desktop view. But that's a silly assumption to make when you consider the dynamic differences between mobile and desktop. Their differences require real thought and effort on how to make the experience unique to each viewing platform.
Build an experience
Think of your mobile website how you would if you were building an experience for your customers. Your brand and your offerings on a platform should be device-agnostic to get people to experience your site in the best way possible. An experience makes them happy and keeps them coming back in the future.
Learn what it takes to build a mobile user experience on various platforms and use that knowledge as the foundation for your design and for future changes.
Be Consistent
Cross-platform and cross-device consistency is the bread and butter to the mobile experience. Always ask if there's a better way to achieve your goals without sacrificing the bread or the butter – because they're always tastier together.
The same thing goes for updates to your site. Don't decide on a whim one day while working with your laptop that you need a new WordPress template for your eCommerce site. While many templates are mobile-optimized, some are not. And it's not always obvious when you're selecting and installing them what you're getting. Be deliberate with your updates and test them in a wide range of use cases, or do research to learn which ones will work across multiple platforms.
Apply your new mobile user experience to your current project, or simply hire a web developer if you want to save time. After your mobile experience is up, consider asking your users what they think with a survey or face-to-face questions. You'll want to get insights into how your site performs on different devices so that you can iterate and evolve your mobile experience for your customers.