By moosnews
October 11, 2012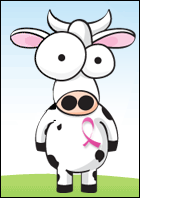 Hey ya'll!
The Moo Crew is excited to be supporting Breast Cancer Awareness this month, a cause really important to the whole herd.
Many of our lives have been personally impacted by the disease, and though we're not doctors or scientists, we're doing everything we can to assist researchers as they search for a cure.
Every October, for the past six years, we've donated a portion of the proceeds earned from each new hosting signup to the Breast Cancer Division of the American Cancer Society. This year we're taking it a step further, and we need your help!
We've created a number of pink badges (available at fatcow.com/pink/), for you to install onto your website. By posting a pink badge, you'll not only help to raise awareness for the cause, but FatCow will donate an additional $1.00 to the American Cancer Society! Then all you need to do is simply fill out the brief form at the bottom of the page (fatcow.com/pink/) letting us know you added a badge to your site.
You don't have to be a FatCow customer to participate; that's right – this opportunity is open to all website owners! So what are you waiting for? Post a badge on your website today!