By moosnews
April 30, 2009
Hi all,
Just like our name implies, the FatCow philosophy is to have fun while remaining focused on providing the best Web site hosting to our customers. That being said,  last Thursday we celebrated our second annual  "BYCTWD" which is short for Bring Your Child (Calf) to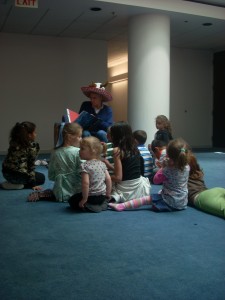 Work Day.
We had a day full of activities that included a class on recycling, arts and crafts, pia bouncy house,  pizza for lunch, and best of all – a story from Steve Sydness, our CEO.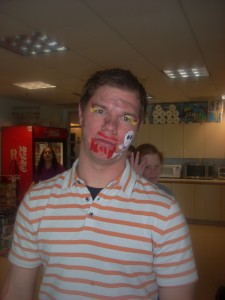 Face painting was also a big hit.  Julian from our support department clearly got too involved into the festivities.  In my not-so-humble opinion, I think he looks like a sad clown.  Lucky for me, I was able to sneak out the back door before anyone got my picture.
Overall the day was a big success and I truly recommend that your company celebrate "Bring Your Child to Work Day".  Not only will they be impressed with what your cool job,  they'll also have a great, great time.
Thanks again for tuning into the Moo's News.
Signing off,
Eric