By moosnews
April 27, 2010
During Twitter's first official conference, Chirp, the CEO of the social network revealed it was creating its own link shortener and dumping the bit.ly shortener it had made so popular. The CEO of bit.ly, John Borthwick, wasn't too concerned.
Bit.ly Not Official, But Still a Favorite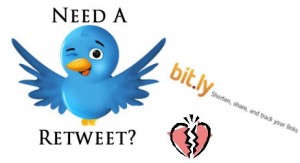 Even prior to the network promoting the use of the link shortening tool, it made up for 5% of all link encodes and has since fallen to just 1%, noted by Tech Crunch. Even so, this still amounts to 3.4 billion links because many of the desktop and mobile Twitter users still use the shortener. This may also be the reason no one seemed to notice the shortner was dropped by Twitter in December; most of the network's power users access the site through a platform such as Tweetie or Tweetdeck.
The Ups and Downs Of Link Shorteners
Twitter's move into areas previously filled by other applications has left developers disgruntled. How do they know the applications they build next will not be taken over by the social network? With the introduction of promoted tweets and commercial accounts, Twitter will certainly have the money to do it.
On the upside, the numbers released by bit.ly is an indication of exactly how popular link sharing has become. Therefore, the easier business owners can make it for visitors to share their content, the more likely it is to be shared, read, and enjoyed.
If you're a Tweeter, make sure you're following FatCow on Twitter!