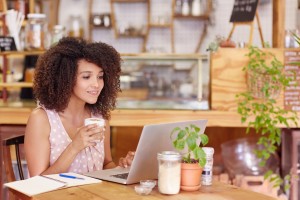 Establishing a website with a company (such as FatCow) is the first step in getting your company known. Each page of your site is uniquely important to engage with your customers. When done right, you can elevate your web presence for your products or services. But you'll need to understand the basics of website content management to keep your customers coming back.
Here are some ideas:
Create Unique Content
You don't just want to create content for the robots. You want to create content for humans too, while understanding what the Internet spiders (such as Google) do. Here is a brief overview:
Internet spiders crawl each website and focus on the text that's on each page. Keywords are important but if they are repeated too many times, Google will assume it's 'irrelevant keywords' or 'key word stuffing' and the site will be reduced in positioning. This rule-of-thumb is also important when crafting individual blog posts or sales pages. Repeating the same message will act like keyword stuffing, so ensure that each site page has different and unique wording.
As of 2014, Google changed the manner in which they place 'value' on a site page. Everything that is 'above the line' (within the viewers first screen view, without scrolling down) is considered to be the priority text. This can be likened to the old newspaper days of the most important editorials and advertising being "above the crease" – the most important area viewed. This is one of the many reasons why should you should include the most important part of your message at the top.
Change Things Up: Text and Images
A static website doesn't do much for your readers. If you're not providing value (through fresh content), you're not giving your customers a reason to revisit. Instead think about ways you can add fresh, creative content to attract your customers attention. Post helpful information as blog posts. Or offer coupons or special offerings for your product or service. Make sure that these posts can be 'clicked through' to make any potential transactions seamless and efficient.
Swap out your images on a regular basis. Whether you are using a single image or a slide show, give your readers a reason to come back. Just make sure that that you find the right photos for your website. Images should be high-quality. Also, try to avoid the cheesy, cliche stock photos.
Spice Things Up with a Blog
Website content management is about getting people to return to your site. Consider adding a blog and include a way for readers to subscribe. Potential customers are more willing to 'buy' if they believe you have their interests at heart. This form of 'soft selling' allows repeat visitors and makes your business more human. It's also a good way to maintain loyalty from your clients.
Your customers are busy people. But when you provide value to them, you're showing that you respect their time. You can curate the latest news, trends or information in blog posts or social media. Or you can even provide exclusive content to subscribers on your email list. Include information about your products or services minimally, so that it doesn't overtake your message.
Use various techniques to take charge of your website so that you can engage with your audience. Iterate on your ideas while learning about your customers so that you endlessly evolve your business – and you keep them coming back for more.