Whether you are setting up an exclusive virtual store (and managing your domain with FatCow) or adding it to complement your existing brick-and-mortar location, focus in on a few areas to ensure that your e-commerce presence is a success. Your website should be an extension of your branding. When you take the steps necessary to represent your name, you can ultimately engage your customers for purchases.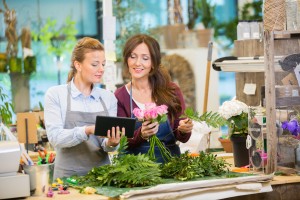 The first thing to consider is to think of your e-commerce site as another store. You will want the look and feel of your personal branding to be extended to the site with your logo, contact information, and a homepage that's designed with a 'call-to-action'. Customers should feel comfortable on your site, knowing that they can buy from you with confidence. Remember that 'text' is what causes your website to increase in website search engine spiders, so balance pictures with the right wording to help increase your brand presence.
Selling products on a website is very similar to how you would present them in a store. Images need to be clear and sharp, product descriptions should include the pertinent information as well as size or weight, pricing should be large (especially if it's on sale) and product categories easily displayed so that your customers can navigate to make their selections. You will need to keep the products updated with everything that is new (or even out-of-stock).
Many of your suppliers may have images and descriptions that they can send to you for upload. Make use of this – as they want to sell the product as much as you do! If you are introducing new products, you will want to make sure that these are highly featured. An example might be a pharmacy that is expanding into health, wellness, vitamins and supplements. This is an extension of the services that they already provide but now offer more of a focus on the care of their customers and patients beyond just medication.
Marketing is key for an e-commerce site. But having a website is not enough. Here are some tips to build your e-commerce presence:
Get your site registered with 'keywords and metatags' to elevate your site for the search engines.  Your site url should also be listed absolutely everywhere: business cards, flyers, social media.
Announce exclusive online specials. For example, make use of your Facebook page to announce the site, offering FB only specials that can be purchased online. Use the same physical store marketing plans for your site for pre-holiday and special event offerings. If you don't have customer emails, create a signup sheet for a 'special giveaway', letting them know that they can receive monthly (or weekly) emails that will have online discount announcements.
Create an email schedule that will include fun information that's catered around the seasons to catch your customers attention, along with your product offerings. The goal is to attract the customers, keep them on your site and get them to return.
Create fun, engaging articles for your website so that your customers actually want to read the information. When you find new ways to say the same things, your business is seen as a leader in the industry. This differentiates your website, and in turn your business, from your competitors.
Work with your webmaster to ensure that you have a secure checkout process. This is critical for online purchases.
Make sure that you are completely prepared and set up for shipping options and charges as well as preparation for expedited shipping of the products. Depending upon your product, you may want to include an incentive such as 'everything over $50 ships free'.
Have a page that defines your shipping and return policies as well as a 'contact us' in case customers have questions.
An e-commerce store will take some of your time, so if you are too busy, allocate someone on your staff to be in charge of maintenance, orders, contact us and updating. The purpose of your ecommerce site is to encourage customers and increase your sales. Make continuous changes to the site to keep it from becoming 'static'. When you create engaging content and sell quality products, you'll win your customers business. Just make sure that you keep them coming back for more.