WordPress is a great platform for building a website, especially when you're not an expert web designer. But the first rule of web design is to divide your site into development and production. This means that you will want to have one version of your site you can play around with and edit and another version your readers see. Dividing your site into these two parts allows you the freedom to play in your sandbox without worrying how it looks to your audience.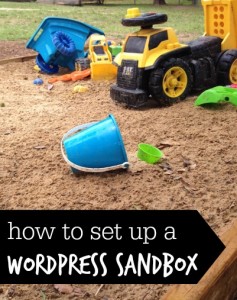 A development environment encourages your creativity because it eliminates the anxiety you'd otherwise feel around changing things on your website. It also gives you a simple way to display the changed site next to your live site for a perfect side-by-side comparison.
Get started with the Sandbox at your Fatcow Control Panel, in the WP Essential section. Click the gear icon named Settings to pop out the drop-down menu. Then click Create Sandbox and patiently wait. WP Essential will create new folders and populate them with copies of all of your site's files.
Your Sandbox generates four new buttons when it's done installing. You should see buttons for Launch Sandbox, Sync, Publish and Delete Sandbox Installation. The first new button opens the Sandbox so you can start trying out design changes and other alterations without changing your live site.
This should usually take less than a minute. But if you have a large site or use many different themes or plugins it may take longer for your Sandbox to be created. This is because the Sandbox is an exact copy of your site, including all themes, plugins, posts and comments, even if they're inactive or unpublished. Once installation of the Sandbox is complete you can log into it with the same username and password you use on your live site. However, you can change the credentials for both the Sandbox and your live site after your first login at the Sandbox.
Users of our SiteLock Web Application Firewall will get the same protection for their Sandbox as they have on their public site. The same is true of SSL encryption because the Sandbox is located on the same domain as your live site.
The second new option, Sync, will reset your Sandbox with a copy of your current live site. This is useful if you want to use your site's current configuration as the starting point for your testing. Publish will go the other way, applying all the changes you made in the Sandbox to your live site. Finally, Delete Sandbox Installation does exactly what it says.
Keep in mind that the content you create in the Sandbox will not be transferred to your live site when you Publish your changes. If you are hit by inspiration while designing in the Sandbox make sure you open your live site before trying to write and save a new draft page or post.
Once things look right on your Sandbox you can publish your changes onto your public website, allowing for a seamless way to make significant changes to your website all at once.