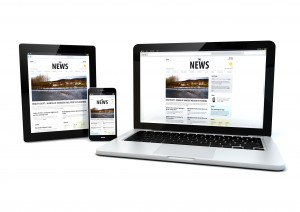 These days desktop computers have big, beautiful high resolution displays. This allows for equally big, beautiful websites with high quality images and even things like full-screen slideshows and background videos. It's a web designer's dream.
Now picture using a high resolution website on a smartphone-sized display. The text is unbearably tiny, buttons are impossible to press and don't even think about trying to use menus. It's a web user's nightmare.
Once upon a time if you wanted people to visit your website on a small screen you had to design a second website from scratch. This meant different CSS styling, size images and even different copywriting. There was new code to write along with photo editing and even then you couldn't be certain your mobile site would look nice or even be usable on every single mobile device out there.
Wise web hosting companies enjoy keeping their customers happy. That's why we decided you shouldn't have to worry about manually managing a second website, HTML files or anything else that stands in your way of happiness. Instead, we offer access to a powerful little tool called goMobi.
It provides you with a wizard interface for creating a mobile website that looks great wherever it is viewed. We also integrate the ability to assign the "m" subdomain to your mobile-optimized site. Users know right away when they're on a mobile-first website when they see "m.your-website.com".
You will find the option to use goMobi in the Website area of your FatCow Control Panel. We have a dedicated page where you can learn more about the tool and build a classy mobile version of your website.
If you have never used goMobile before you have to purchase the addon using the link from the Getting Started page. When this is done or if you have already purchased the addon you will next see the Mobile Website Builder.
Start there by clicking Add Mobile Site and select the domain you need a mobile website for from the drop down menu. Click Create New Site. Make sure the domain listed under the Current Website is the one you're intending to use.
Select Settings next to the domain you want to edit. The resulting pop up allows you to reapply the mobile styling to a different domain (which removes it from the current domain). You can also toggle the redirect from you main desktop version to the mobile version of your site. If necessary, you can even delete your mobile site altogether from this screen.
That means the mobile site you deleted will be gone but the credit will remain on your account for use with another domain or to rebuild that domain's mobile site.
If you have any questions, feel free to contact our Moo crew. We're around to make your experience smooth.