By moosnews
April 29, 2015
Are you ready, friends? Mobilegeddon is upon us.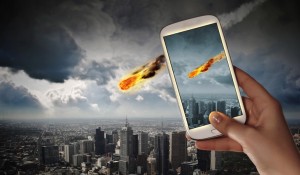 Don't worry, your new smartphone hasn't finally become sentient (that we know of), but there are big changes ahead. Before you reach for your tinfoil hat, there are a few things you should know.
Google tweaked its search algorithm on Tuesday. From now on, sites that aren't mobile-friendly — meaning ones that have text that's too small, take a long time to load, or are generally hard to navigate — will see their search rankings plummet. If your site isn't optimized for mobile, you're about to experience a huge drop in search traffic.
Not great, obviously, but here's why it's a very big deal: Approximately 86% of all U.S. smartphone users search via Google. There are 177 million websites covered by Google search. If you're not optimized for those mobile users, you're going to get lost in a very large crowd.
Don't worry, we've got you covered.
Step 1
Find out if your site is mobile-friendly. Check this free, instant mobile-friendly test ASAP.
Step 2
If your site isn't ready to go, don't panic. We can help. Consider us your guide through this post-apocalyptic mobile wasteland. We'll make your site mobile-friendly within a few days, helping you avoid any major losses in traffic or revenue (Google will notice the change and you'll quickly regain your search ranking).
But you've got to move quickly. Call us at 1-855-736-5619 or click the button below and we will reach out to you within one hour.

Crisis averted. But still keep an eye on your smartphone.