People come to FatCow to host their websites for all sorts of reasons. Some want to establish a way for customers contact them. Others want to connect with like-minded folks. But those who want to sell their products and services on their website need a unique set of features from their web host.
We offer a suite of services meant to make selling on your website as easy as possible. You can let your visitors browse your products and add them to a shopping cart, process credit card payments, and reassure customers that their transactions are secure. Now all you need is something to sell.
Shopping Cart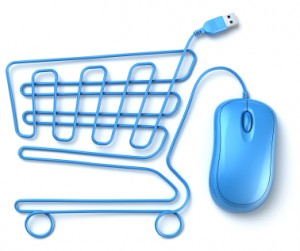 There's something about bringing the real world onto the internet in metaphorical form that's fun. That's why the system for letting customers gather items to purchase on your website is called a "shopping cart."
We offer a shopping cart system called Ecwid. Our customers love it for many reasons. For example, it works on desktop and mobile devices, including tablets. It powers more than 40,000 stores selling via Facebook. And you can have it up and running in minutes.
You can use your Ecwid interface on FatCow to manage sales across multiple websites, social networks and third-party marketplaces like Amazon. Check out our page about Ecwid for more details.
If you want to try to sell stuff online but don't want to deal with inventory and shipping, try our Doba offering. More than 200 suppliers let you offer visitors more than 1.5 million name-brand products for sale. They deal with the logistics so you can focus on the presentation and user experience of your sales site.
Credit Cards
If your visitors fill up their shopping cart only to face a confusing user experience when they try to pay, there's a better way. We help you do it right by integrating PayPal. PayPal also includes shipping and tax calculators, international currency manager and useful reporting tools.
It's a quick no-hassle way to accept payments. Customers from across the world have the same easy checkout experience as those across the street. Finally, it's affordable no matter how big or small your business.
Security
Data security is in the news more than ever before. People demand a safe transaction, and even the slightest concern will send them packing. That's why we offer Secure Socket Layer Certificates. SSL certificates tell the browser a site is the one it claims to be. They also confirm that sensitive information is being transmitted over an encrypted connection.
If you're dealing with extremely sensitive information you can even consider an Extended Validation SSL Certificate. Many people will look for signs of security on your website before they trust you with financial or other sensitive information. And even if people don't question your site's security, all it takes is one data breach to potentially destroy your reputation.