By moosnews
November 1, 2013
On behalf of the entire Moo Crew, we just wanted to take a moment to thank you for supporting Breast Cancer Awareness Month! The response was overwhelming: more than 300 of you shared a pink badge on your website, and many also shared your inspirational stories. No matter how you contributed, it made a big difference!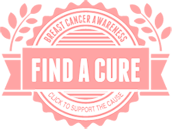 We are pleased to announce that, as a result of your participation, we were able to donate $3000 to the American Cancer Society!
Though the donation period is over, we hope you continue to support this important cause. We'll be keeping the www.fatcow.com/pink page live all year round – feel free to share a banner or badge at any time. You can also share banners to promote FatCow when you join our affiliate program: http://www.fatcow.com/affiliate/gettingstarted.bml
You'll earn up to $150 when your customers are inspired to click on a banner and purchase our web hosting.
Thanks again for going pink with us!
Sincerely,
The Moo Crew